Sports
Did chest problems cost Rafael Nadal Indian Wells victory?
Rafael Nadal suffered from chest problems that made it difficult to breathe
He did not chase the ball like in previous matches and was captured pressing his hand against his chest
He will take a break and find out what the problem is
Rafael Nadal suffered from chest problems that made it difficult for him to breathe during his final Indian Wells match against Taylor Fritz who eventually won the tournament.
Speaking to the press post-match, the Spaniard opened up on his breathing difficulties at the tournament. He lost 3-6, 6-7(5) loss to Fritz.
DID RAFAEL NADAL HAVE CHEST PROBLEMS AT THE INDIAN WELLS FINALS?
"Only thing I can say is it's tough to breathe for me. I feel very, very – when I try to breathe, it's painful and it's very uncomfortable," he said.
At the end of his semi-final match against Carlos Alcaraz on Saturday, Rafael Nadal required medical attention.
After losing his first four games in the final on Sunday, it was evident that Nadal was not in the best of spirits. He refused to chase down balls and kept scratching his chest.
In the second set, despite his difficulties, he returned to the court and won the second set despite the doctor's intervention.
He said his focus now is finding out what is ailing him.
"When I'm breathing, when I'm moving, it's like a needle all the time inside. I get dizzy a little bit because it's painful. It's a kind of pain that limits me a lot. It's not only about pain, I don't feel very well because it affects my breathing," Tennis365 reports.
He, however, said that he is not taking this as an excuse for losing to Fritz adding that he did the best he could.
The 21st Grand Slam champion had won his first 20 matches of the season, collecting three titles, including a 21st grand slam victory at the Australian Open.
He was considered the favorite to win the inaugural Masters event in 2022 but luck was not on his side.
WILL RAFAEL NADAL PLAY IN MIAMI OPEN 2022?
Nadal already withdrew from Miami Open which begins in two weeks. He said that he will take time off to relax while getting ready for the clay court in May.
Nadal's loss in the final of Indian Wells in straight sets was his first loss of the year.
In the first set, Nadal looked off his game and fell behind 4-0 before retiring to the dressing room for treatment.
He returned to action and appeared more at ease, but he was unable to overcome a resolute Fritz, who prevailed 6-3, 7-6. (7-5).
HOW DOES TAYLOR FRITZ FEEL BEATING RAFAEL NADAL?
Fritz, 24, says playing such a game against Nadal is a childhood come true.
At 5-5 in the second set, Fritz saved two break points before winning the tiebreak and his first Masters 1000 title.
After Andre Agassi's triumph in 2001, Fritz became the first American to win Indian Wells.
There was skepticism about his showing up at the Indian Wells finals due to an ankle injury he picked in the semi-final while playing against Andrey Rublev.
However, he pulled a surprise on everyone despite feeling so much pain before the match started.
"I can't even begin to describe how ridiculous it is to play, how I could play today, I've never experienced worst pain like I did before the match," he tells BBC.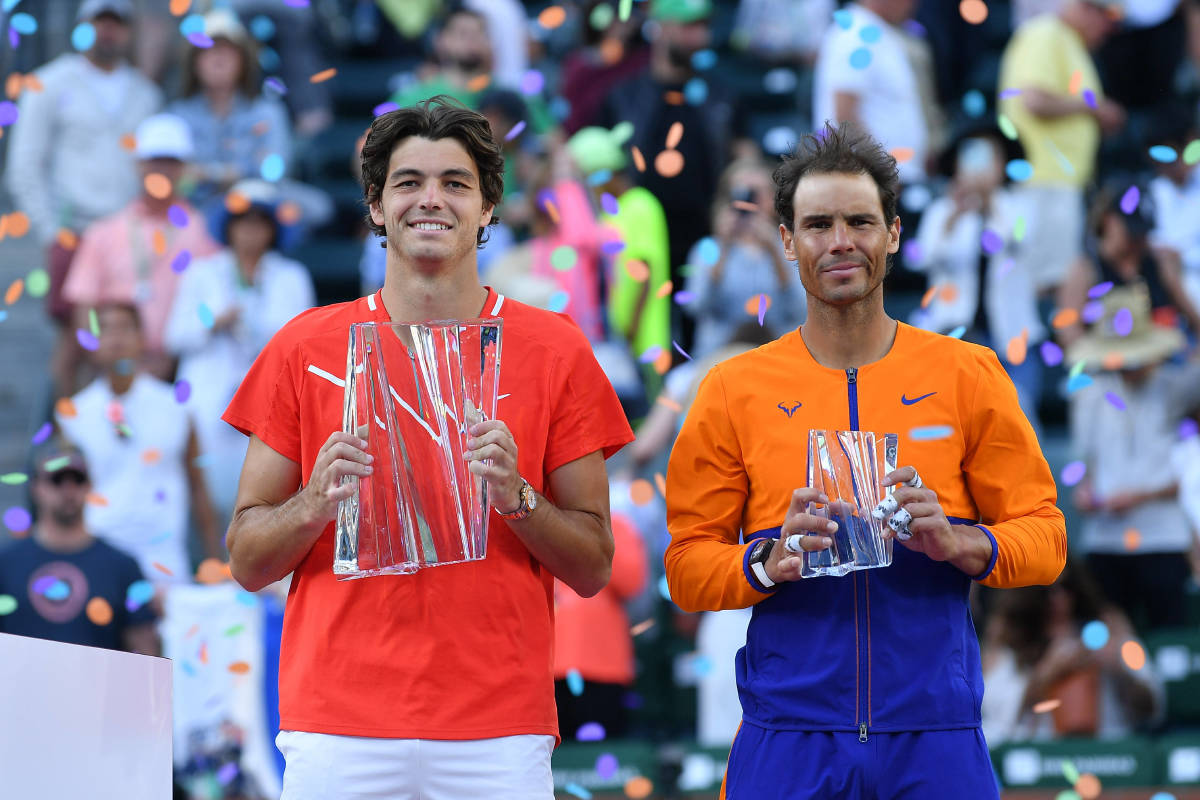 "I took a couple of steps and screamed. I was trying to act tough and we did a lot of work leading up to the match.
"I went through a rollercoaster of emotion and all of a sudden being really happy thinking maybe I can play, but it didn't affect me at all."
In the first set, Nadal was down 2-5 when he called for the physiotherapist and doctor to come on the court at the next changeover.
After trading breakpoints with Fritz, the world No. 20 took a 6-3 lead and Nadal departed the court for treatment
On Saturday, during his three-hour three-set semi-final against Carlos Alcaraz due to a pectoral injury, the 21-time Major champion requested help from his trainer.
And he appeared to be affected by the same issue during the first set when playing Fritz.
He says that he did his best in the last two weeks although he did not win the tournament. He enjoyed every minute he played at Indian Wells after years of being absent.